LGBTQIA Resource Center
GTAAN Campus Partner Spotlight
October, 2020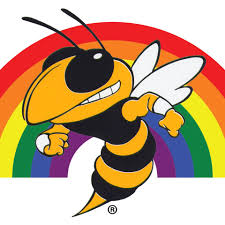 Q: Who are you?
A: We are the LGBTQIA Resource Center. Our professional staff include our Tegra Myanna (they) who serves as our Director, and Camilla (she) who is our Coordinator. We often have student staff who assist with programming and marketing materials each semester.
Q: Where is your office located?
A: Physically our Center is in Suite 140 of the Smithgall (Flag Building). Structurally, our office is located within the Division of Student Life and Institute Diversity Equity and Inclusion.
Q: What resources do you provide to the Georgia Tech community?
A: We provide a variety of resources. We typically categorize them as programs/events, trainings/workshops, advocacy & consultation and advising. We provide these serves to students, faculty, and staff.
Q: Can we refer students to you? If so, how?
A: Yes, while we are mainly working virtually you are welcome to refer students to us via email. We can host virtual meetings with students any day of the week and Tegra is available for in-person meetings on Mondays, Wednesdays, and Fridays if the student is willing to physically distance and wear a mask. You can also refer students to our website for lots of information about our services, resources, and programs.
Q: Is there anything unique/exciting that you bring to Georgia Tech?
A: As an office, I think we are unique because we are the only staff who specifically focus on initiatives and advocacy for LGBTQIA community. In this role we serve students, faculty, and staff so that makes us unique in our services from many other offices on campus.
Q: Do you have any upcoming events/initiatives that we can help you promote?
A: October is actually Pride Month at Georgia Tech so we have a variety of programs and trainings happening. You can find more information at https://lgbtqia.gatech.edu/out-week
Additionally, in November we are hosting a specific session on Data Collection and Reporting of Sex, Gender, and Sexual Orientation that staff and faculty might find useful. You can find out more and register for that session here: https://lgbtqia.gatech.edu/reading-rainbows             
Q: What is your favorite part about working at Tech?
A: The supportiveness of the Tech community to increate inclusion of LGBTQIA folks in our classrooms, colleges, and departments. It is amazing the amount of collaboration we get to do with others who support and/or are helping to lead the way in this work.
Q: Is there anything else that you would like for the GTAAN community to know about you and/or your role at Tech?
A: Just that we are always available to serve as a resource either individually or collectively. You are encouraged to connect with us on any request big or small.
Thank you!
Thanks so much to the LGBTQIA Resource Center for all that they do for the Tech community and for allowing us to shine the spotlight on them this month. Happy Pride Month!