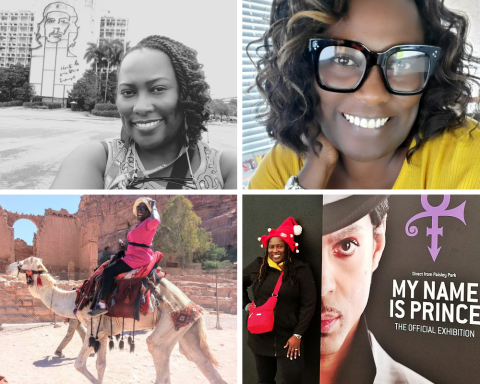 Stephanie Jackson
Associate Director, Advising & Professional Development
International Affairs, INTA
Hometown: Carson, CA
Alma Mater: Howard University, Washington, DC (undergraduate) and Ohio University, Athens, OH (graduate)
Degree(s): BA, Political Science; MA, International Development Studies; MS, Instructional Design & Technology (in progress)
Q: What is your favorite activity/hobby?
Traveling. I try to take at least three trips a year. I already have plans in the works for my first international trip post-pandemic! Since travel is limited right now, I'd say my favorite activity is coloring. From time to time I host coloring cocktail parties and I've been able to move that online. So, it's a fun way to remain connected with people during this pandemic.
Q: What is the best part of your job?
Helping people make connections that will further their goals. It may be a fellowship program, or an alumnus or colleague, or an industry hashtag they should follow – connecting them with new information that informs their decisions is really rewarding.
Q: Where is your favorite place on campus?
I love the campus from an elevated viewpoint! The view from the Ferst Room in the old Crossland Tower was special. When on campus I like to escape to the roof of Clough for lunch or for some quiet time to focus on special projects and enjoy the scenery.
Q: Unique/exciting thing you bring to Georgia Tech?
I like to think I encourage others to get outside of their comfort zones. This goes for students as well as my advising peers. Continue growing and learning. Expand your knowledge. Get that training. Go on that international trip. Apply for that scholarship. I've done it, I've won it, and I am happy to share my experience.
Q: Anything else that you would like for the GTAAN community to know about you and/or your role at Tech?
Have you heard me laugh? You have to find the humor. When you've been at GT as long as I have, you find a lot to laugh about. Levity over shared experiences balances everything out.
Thanks so much for letting us shine the light on you this month, Stephanie!