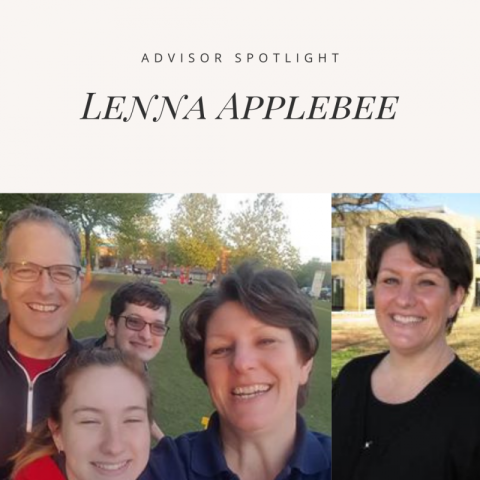 Lenna Applebee
Academic Advisor II
Mechanical Engineering
Hometown: Columbia MO
Alma Mater: Davidson College, UNC-Charlotte
Degree(s): BA Anthropology, MA Community Counseling
Q: What are some of your favorite activities/hobbies?
A: reading, hanging out with family and friends, trying craft beers and ciders, sleeping
Q: What is the best part of your job?
A: The students!  I guess everyone says that, though, so let me be more specific: when I know that I have helped a student accomplish something or get information that they needed.  
Q: Where is your favorite place on campus? 
A: My favorite part of campus is the quad area outside my building (MRDC), especially in the spring.  The flowers and trees are beautiful!
Q: What are some unique/exciting thing you bring to Georgia Tech?
A: I've worked on both sides (high school and college) and I think that helps me understand some of the things that students bring to the table in their conversations with us.  I've also had two children graduate from high school and go off to college while working at GT so I definitely have a parent's perspective on this transition time.
Q: Is there anything else that you would like for the GTAAN community to know about you and/or your role at Tech? 
A: I love networking and collaborating with my colleagues (live and in person) and I think this has been one of the things I miss the most from our COVID time.  I look forward to the time when we can safely gather back on campus and we can see each other.  Also, I look forward to the time when we can safely gather socially again as I feel like there are some awesome breweries and cideries around midtown and downtown that need to be explored……
Thanks so much for allowing us to shine the Spotlight on you, Lenna!